H

OME
T

OPICS
A

BOUT ME
M

AIL
The mini is thinner and lighter than Apple's other iPads, in addition to its smaller screen.
technofile
Al Fasoldt's reviews and commentaries, continuously available online since 1983
---


Baby iPad costs $329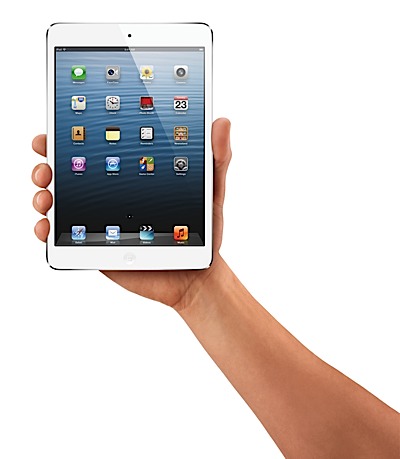 Small enough to hold with one hand, the new iPad Mini can run all the apps made for larger iPads.

October 28, 2012

By Al Fasoldt
Copyright © 2012, Al Fasoldt
Copyright © 2012, The Post-Standard


Apple's iPad has a baby sister. It's the iPad mini, with a 7.9-inch screen. Prices starts at $329 for a 16 GB model with Wi-Fi. It's cheaper than the least expensive large iPad, which starts at $399, but misses the $250-$300 price point many Apple watchers had predicted.

The new mini -- in Wi-Fi versions only -- is available now for preorder at Apple's online store, at www.apple.com. Apple's mall stores will have it available for take-home sales starting Nov. 2. Versions of the mini with added 3G cellular capability won't be available until mid-November.

The mini is thinner and lighter than Apple's other iPads, in addition to its smaller screen. The screen size is controversial because of a comment made by Steve Jobs, Apple's legendary co-founder, before his death a year ago.

Jobs said facetiously that that Apple would have to include sandpaper in the box if it ever sold a 7-inch iPad so that users could file down their fingers to work with the smaller icons on the screen.

But this remark no doubt was intended to divert attention from an ongoing Apple project to shrink the iPad. (And, after all, Jobs never made such a comment about the much smaller screens on Apple's iPhones, which use the same software as the iPad.)

Apple's large iPads, the iPad 2 and the so-called New iPad (the iPad 3), have 9.7-inch screens and weigh considerably more than the mini. Apple's chief executive, Tim Cook, told a San Jose audience the mini is no heavier than a standard pad of writing paper.

Like its larger siblings, the mini has a 10-hour battery life, front and rear video-and-still-photo cameras and instant-on capabilities. It uses Apple's new, small USB connector, shared with the iPhone 5.

The smaller screen has the same resolution, or pixel detail, as the original iPad and the iPad 2. Software written for the larger iPads will run unchanged on the mini. Apple says its App Store has 175,000 apps (programs) that will run on all three iPad models.

At Tuesday's unveiling, Apple CEO Cook took note of the company's competition from Android tablets, manufactured by dozens of Chinese companies under the loose leadership of Google. The best-selling Android tablet is the Google Nexus 7, which sells for $199 for a basic model. An even cheaper version is likely to be announced in a few days.

But Apple and Google both face bargain-basement competition from lesser-known Android makers such as Coby. A 7-inch Coby tablet much like Google's Nexus 7 can be had for a little over $100.



---