H

OME
T

OPICS
A

BOUT ME
M

AIL
The coolest iPad photo app, too funky to make the best-app list, has to be 100 Cameras.
technofile
Al Fasoldt's reviews and commentaries, continuously available online since 1983
---


Best iPad photo apps, Part 1
August 21, 2011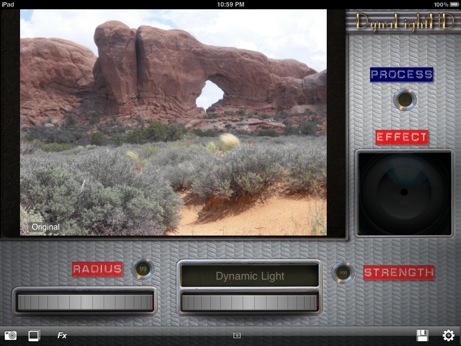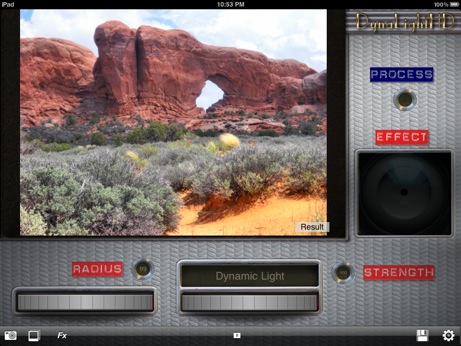 IMPRESSIVE iPad app shown here, DynaLight HD, improves photos by restoring their dynamic range -- the accuracy of extra light and extra dark areas. It's easily worth $100 or more, yet costs less than a dollar. You can see the original photo in the first screen shot and the finished result in the second. (The app shows "Original" or "Result" in the lower corner, left or right, of the viewing window.)


By Al Fasoldt
Copyright © 2011, Al Fasoldt
Copyright © 2011, The Post-Standard


The iPad is a splendid device for photo editing, whether you have the original iPad or the iPad 2. Both work well with the apps I'm recommending in these two articles.

The screen is as good as you'll find on any laptop and photos are easy to deal with. I like the way you never have to come up with a name for a picture -- names are generated automatically -- and every new photo always goes into the Photo collection, so they're all easy to find.

Because I'm a big fan of landscape photography, I'm always eager to try out high-dynamic-range photo software, which takes an ordinary photo and manipulates the light-and-dark range (the "dynamic range") so that these light and dark areas more accurately reflect the real scene. The realism such software can achieve is spectacular, and of course you can tweak the dynamic effects to make a photo hyper-realistic, too.

By far the best program of this type is an app for the iPad called DynaLight HD ($.99). I don't mean it's the best iPad app for this function; it's the best software I've seen for dynamic-range enhancement, period. Its easy to use and shows changes immediately. You can switch quickly from viewing the original photo to viewing the enhanced version, too.

If you enjoy looking at the cover photos I update weekly on my website, at www.technofileonline.com, you'll appreciate knowing that nearly all the landscape photos on my cover page are processed with DynaLight HD.

For overall photo editing, two apps stand out:

- Photogene, ($2.99), the equal of all but the most expensive photo-editing software for PCs and Macs, with intuitive functions and dozens of features. It has a big flaw if you edit large photos: It reduces their size to a maximum of 8 megapixels when it saves them. My 14 MP photos are too big for Photogene. (This limitation might be removed in newer versions of Photogene, so keep checking the App Store for updates.)

- Filterstorm Pro ($14.99), which some professionals use for on-location test-photo editing. It will save large photos, has an amazing array of functions, and has only one flaw: The crop function is frustratingly awkward. But what an outstanding app otherwise!

The coolest iPad photo app, too funky to make the best-app list, has to be 100 Cameras ($3.99), which takes any photo and alters it in fantastic ways. You get 100 or more variations for each photo. I've seen similar apps, but I know of none that can create such professional results. This is a must-have.

Next week: More photo apps for the iPad.


---